New Haven's Olive & Wooster Apartments Grand Opening Announcement
Adam America Real Estate, EPIMONI, and B.HOM are pleased to announce the grand opening of Olive & Wooster, a newly constructed community located just outside downtown New Haven. The grand opening celebration will take place on Wednesday May 4th, 2022 and will commence with a ribbon cutting ceremony in front of the community's Union street entrance at 1pm. Community tours will follow, showcasing the residences and all that this charming new community has to offer.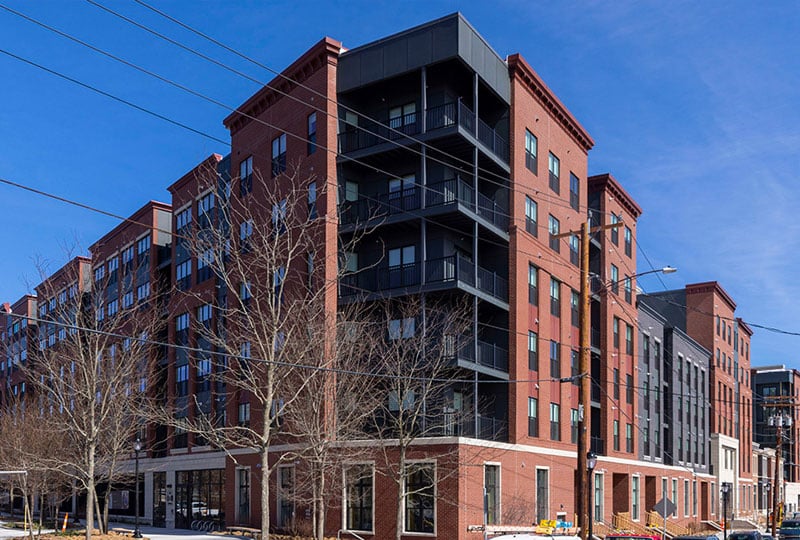 Currently leasing for immediate move-ins, Olive & Wooster will offer future residents exclusive features including thoughtfully designed finishes, lavish community amenities, and convenient walkability to the surrounding neighborhood. Nestled into New Haven's charismatic Wooster Square neighborhood, this 299-unit community lies adjacent to many of New Haven's favorite eateries and retailers. 
"This is an exciting project with unique floor plans and community features that are not available at any other rental community in New Haven," says Jonathan Jeans, VP of Operations, B.HOM. "The collective living component makes Olive & Wooster a true hybrid community for residents and offers a new housing option for a wide range of prospective renters. There is truly something for everyone to love at Olive & Wooster."
The community offers a versatile range of living and leasing options, with studio to four-bedroom apartments and townhomes available in traditional or collective living lease terms. Collective living options offer residents the ability to rent an individual bedroom and bathroom within a shared living space, complete with free high-speed wireless internet and energy share services. Among Olive & Wooster's generous amenity offerings, fully furnished bedrooms and common spaces are available to residents. 
The complex features an appealing exterior design and high-quality interior finishes including soft-shell shaker cabinets, stainless steel GE appliances, quartz countertops, and wood-style flooring. Community amenities include a resort-style pool, state-of-the-art fitness center modern clubroom with bar area, televisions with gaming consoles, and universal Wi-Fi.
For more information on building offerings, please visit https://oliveandwooster.com/ 
About Adam America Real Estate
Adam America Real Estate is a privately held real estate development and investment company. Founded by Dvir Cohen Hoshen and Omri Sachs in 2009, the company has grown to become a leader in the development of high-quality multifamily housing in the New York metropolitan area. In addition to New York, AARE is active in Florida and Connecticut. As a vertically integrated owner, developer and operator of residential real estate, AARE has actively developed over 2,100 residential units with an additional 1,300 units on the way totaling more than $1.5 billion of developed real estate assets.
The Adam America team brings together a wealth of knowledge and experience in all aspects of development including construction, architecture, financing, and marketing. This, combined with a hands-on approach to managing all aspects of the developments enabled the company to become one of the most active developers in the New York multifamily rental and condominium market.
For more information, please visit the Adam America website at https://www.adamamericare.com/ 
About Epimoni
Epimoni is led by President & Founder Darren Seid. In Greek, "epimoni" means perseverance.  Steady persistence towards achieving a goal despite difficulty is the cornerstone of Darren Seid's business philosophy.  Founded in 2014, Epimoni focuses on multifamily development in New York, New Jersey, and Connecticut.
Each investment and strategy are carefully selected with a vision of how Epimoni can produce one of the most desirable and marketable living communities in each submarket.  The focus on market needs and tenant demand is ultimately what produces the best rent, occupancy, and overall investment performance metrics.  The company takes great pride in sourcing opportunities in markets that have been targeted for their upward growth trajectory.
Epimoni brings forward thinking to all elements of a commercial real estate investment.  Throughout deal sourcing, capital structuring, product design, construction execution, and property management innovative strategies are deployed over every detail to maximize value.  Specializing in developing residential living communities, Epimoni's assets appeal to institutional investors, family offices, and private investors of all sizes.
For more information, please visit the Epimoni website at www.epimonicorp.com
About B.HOM 
B.HOM is a division of BH, a people-first multifamily owner-operator that grew from a small startup into one of the nation's largest commercial real estate companies. Founded in 1993, BH is celebrated for its simple commitment to doing business the right way and investing in its team. Today, BH manages over 100,000 units, employs 2,400 people, owns its processes in-house, and is praised by Fortune Magazine as the "Best Workplace for Women," "Best Workplace for Millennials," and "Best Workplaces for Diversity." Powered by innovation and a can-do attitude, BH improves daily, striving to construct a smarter way to live, invest, manage, and grow.   
For more information, please visit the BH Companies website at www.livebh.com.